LC MAXI 450
Lifts without machine room in limited spaces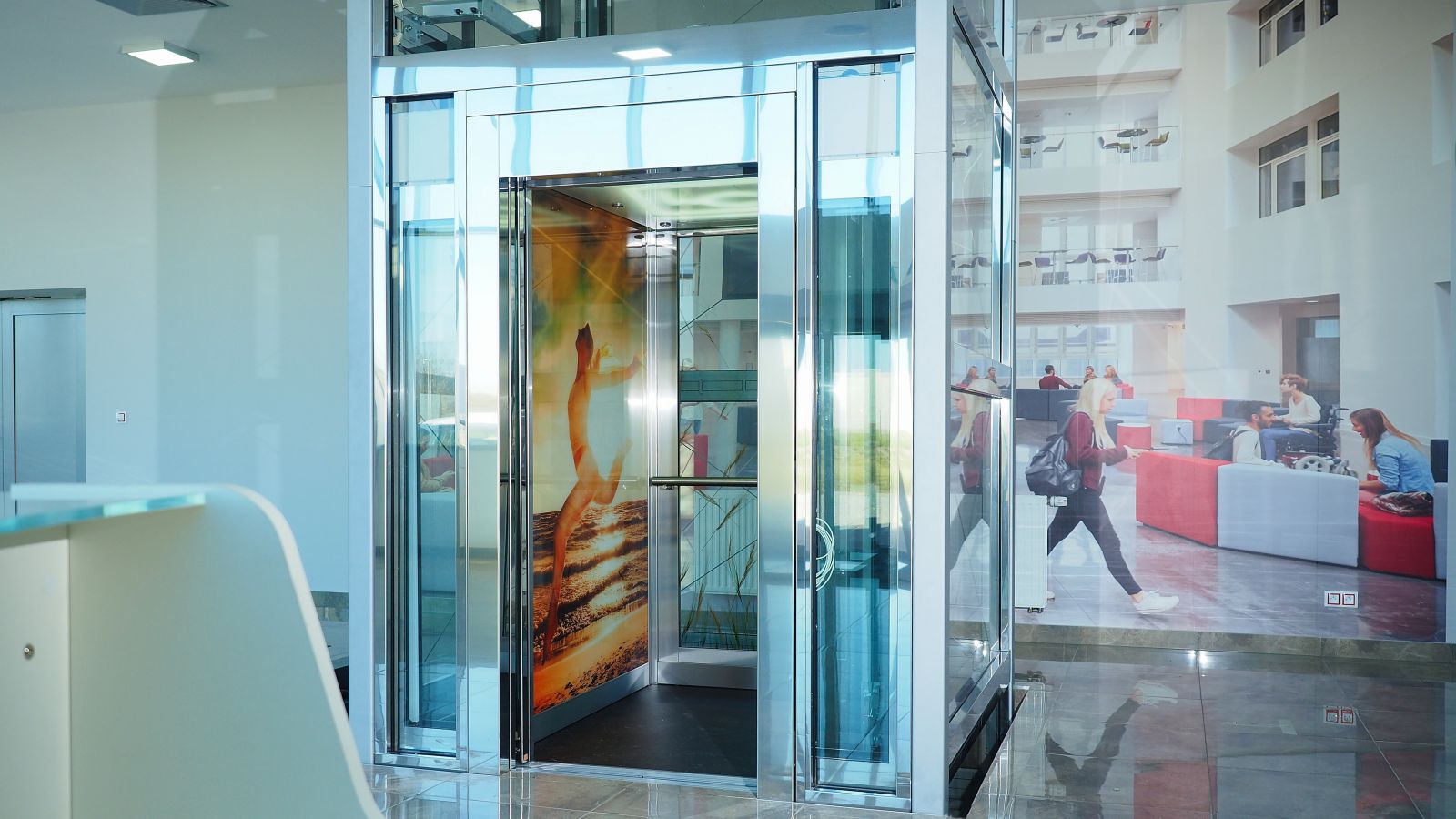 Technical parameters LC maxi 450

Load capacity 450 kg

Number of persons 6

Number of stations max 16

Travel max 25m

Cabin 1000x1250 mm

Shaft 1550x1620 mm

Shaft head 3350 mm (min. 2750 mm)

Pit 1050 mm (min. 500 mm)

Frame Type TLM10 maxi

Gearless machine

Engine power 3,5 kW / 11,5A

Door 800mm wide

Doors automatic 2 panel

Rope 5x6,5mm

* In case of higher lift please contact our sales department for more information
Lift Features
Design cabins

Five series of lift cabs

Dozens of lights, accessories and hundreds of color combinations

Crystal clear surfaces, precise lines, perfectly manufactured

Premium materials, stainless steel surfaces, LED lighting, design elements and sharpened glass

The cabins are galvanized on both sides, which significantly increases their service life

<more information about design

Development and testing

All lift components going through exacting testing in the test tower to meet the high demands on safety, quality and reliability

During testing, we are focused on permitted noise levels in protected areas

We monitor lifts for your safety - the lift can be monitored from anywhere and anytime, some problems can be solved remotely

"The development of lifts is very important.

It is not enough to buy cheaply and assamble at the customer"

Hi-Tech components

We produce lifts for you in our factory in Karviná

We complement our own production with quality components of leading European manufacturers

SICOR and Ziehl Abegg machines - our long-time partners, one of the largest and best machine manufacturers in Europe

Klefer doors - part of the Tecnolama multinational group, delivered to 90 countries of the world <more about Klefer doors

Steel ropes last up to 2x longer than belts

Pushbuttons in the cabin and station

Top lift control "VEGA"

Swiss production technology

We use Hi-Tech machines from Switzerland (laser and Bystronic press brakes, Trumpf sheet metal punching from Germany) for production.

Due to these technologies, LC lifts are made as compatible kits, which guarantee their long life

Due to the technology of production and materials used, the whole structure is lightweight

All components of the lift going throught exact testing

The main parts of the lift (cab, frame, brackets and more) are galvanized

"If the components are not galvanized, they often look like ten years old after one year of usage"
Offered lift cars
Sample of surfaces for LC Classic cabin

Sample of surfaces for
LC Elegant and Exclusive cabin

Examples of realizations
Energy-efficient lifts