LC Exclusive 2019 - new cabin desing from 1.5.2019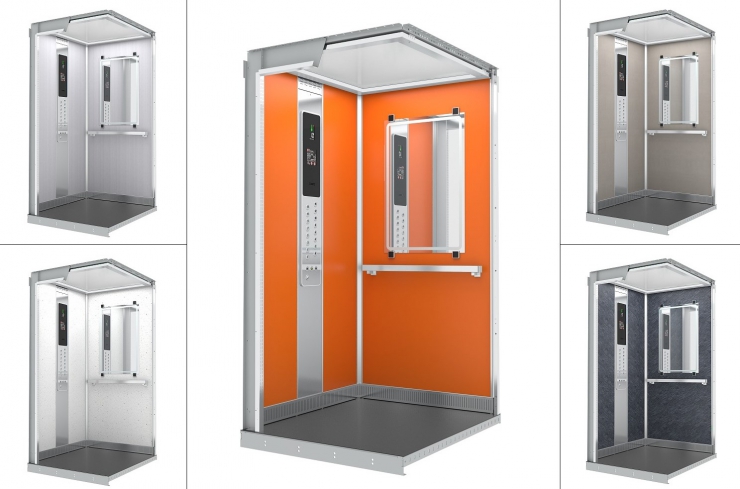 Dear customers,
Last year we have informed you that we are preparing for 2019 a brand new design for the LC cab. In January we introduced the new LC Classic, then LC Elegant and now we are introducing the new LC Exclusive.
Crystal clear surfaces, precise lines, perfect workmanship and timeless looks.

Precise selection of materials handled by the finest Swiss technologies.

Premium materials, stainless steel surfaces, LED lighting, cut glass and design elements.

Timeless and practical design.
These designs were created together with Czech designer Jaromír Materna.
We present a new LC Exclusive
Control panel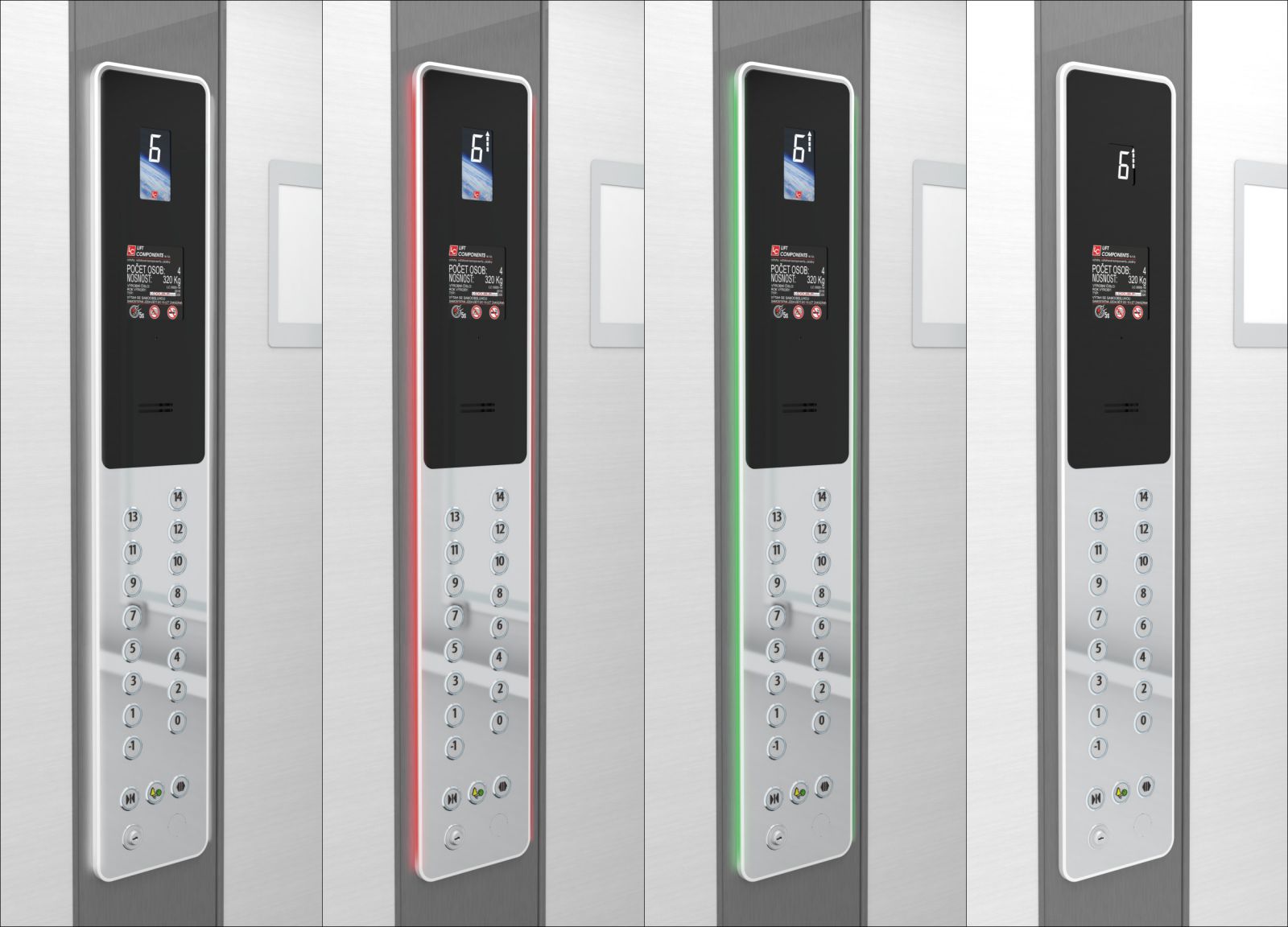 Stations callers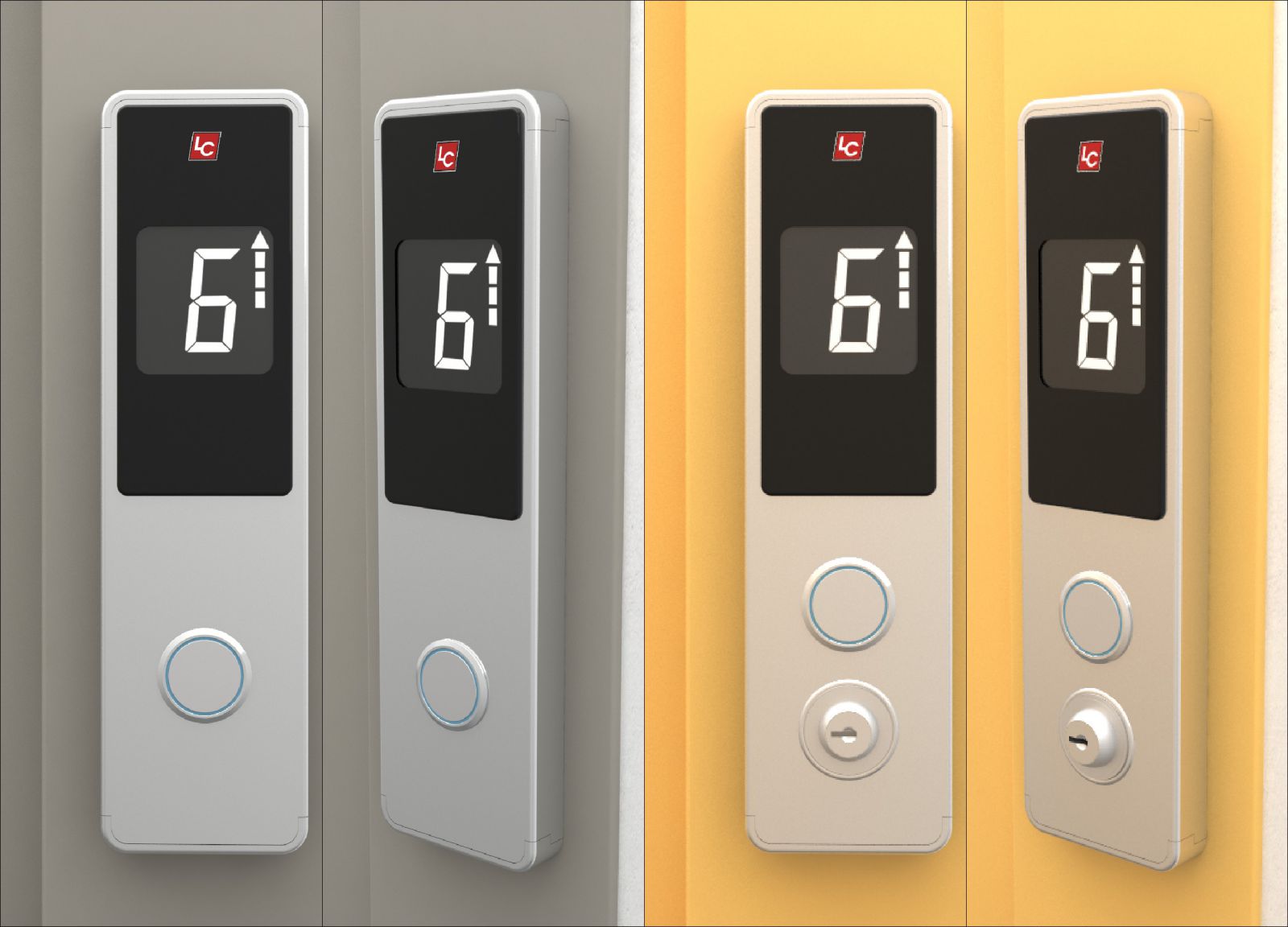 Accomplish of LC Exclusive 2019
Cabin

The cabin is the same as the LC Elegant, but all its details are in stainless steel gloss (cut)
On the floor you will find a special MARMOLEUM 97% natural floor covering, in various colors, consisting of: linseed oil, gum, wood flour, limestone, pigments and jute fabric

The cab walls are:a) double-layer zinc-plated sheet metal + POLYREY (high-pressure, very durable hardened laminate (Fr.))b) single-layer stainless steel - selection by sampler

The front entrance portals and 45 ° angled corners are made of a) Stainless steel gloss (standard) b) Stainless steel K400 (finely brushed)
The trench rails are made of stainless steel in the K400 surface, 100 mm high, perforated, providing cab ventilation.
Optional:Side glass (panoramic) wall or multiple walls
Cabin lightining
Nebia Stainless Steel Basic Lighting (Gloss)

Optional:

a) Stainless steel ceiling series (gloss)

b) All-soffit glass ceiling

All lighting has a LED light diffuser and cooler for long life.
Handle

The handle is in two variants:a) 42 mm round handle, stainless steel gloss b) Square handle 40 x 40 mm, stainless steel grit K 240

Handles, clipss and endings are also made of stainless steel satin finish.

Tilt control panel
The control panel is set in a matching flip panel made of material:a) Stainless steel gloss b) Stainless steel K 400
Driver combination in the cabin

Ovladačové kombinace jsou řady 10LC - 3D, provedení leštěná nerezová ocel s LED bočním prosvětlením (červené – směr dolů, zelené – nahoru, bílé ve stanici)

S bílým lemováním a:
a) černým tvrzeným polykarbonátovým sklem pro displej, popisové pole a interkom
b) bílým tvrzeným polykarbonátovým sklem pro displej, popisové pole a interkom

Displej: a) LCD 609 – černo bílý

b) Color LCD 4,3" s hlásíčem pater a ambientním ozvučením kabiny

Stations callers
Stanicové přivolávače řada 10LC 3D:
a) s černým lesklým polem a displejem LCD 609
b) s bílým lesklým polem a displejem LCD 609
Další doplňky
LC Sedačka typ 2019
Zapuštěná LC sedačka typ 2019
Zrcadlo 600 x 900 s pískovanými detaily
Zrcadlo na polovinu stěny kabiny
Ventilační modul ve výklopném panelu
Hlásič pater
Boční prosklená panoramatická stěna
LC Exclusive cabin color
POLYREY cabin walls (high pressure, very durable hardened laminate from France)

Floor colors Marmoleum (97% natural raw materials - naturally healthy)

Note: Other surfaces and colors can be ordered as part of the LC Individual lifts, where the choice is almost unlimited
For any further comments or remarks we are at your disposal.
Lift Components s.r.o.